The race in Russia witnessed a dramatic chase. And in fact after what the racers have shown, the three riders present on the podium glory are indeed very worthy. But from here, the F1 championship race in 2019 has taken an important turning point.
---
The huge advantage in the straight line with softer tires helped Ferrari beat Mercedes from the start. Sebastian Vettel from the 3rd rank rose to the top of the 2nd when taking advantage of every opportunity that he had while Lewis Hamilton and Valtteri Bottas struggled with McLaren behind.
The race was slightly interrupted by the collision, causing Romain Grosjean to give up from the first round and Daniel Ricciardo had a flat tire, but also gave up in the 30th round.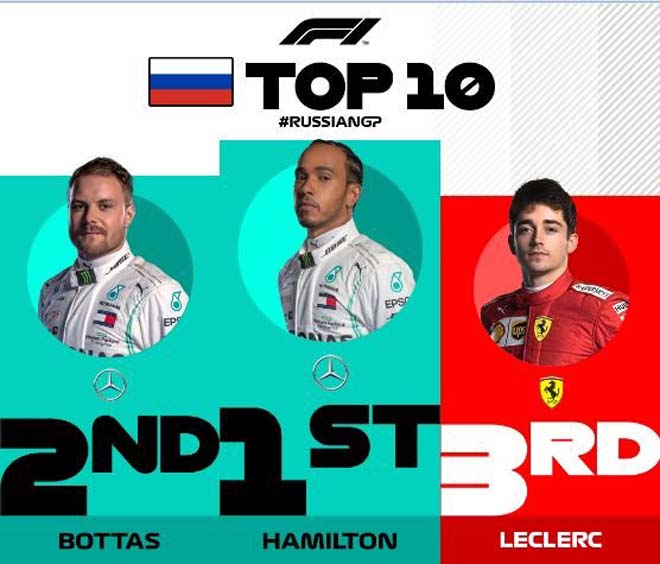 Ferrari dominated the first tire stint despite the debate over the order of the two riders in the first rounds and that was what the Italian team impressed the most in this race. As soon as Vettel finished his pit-stop, his car had a problem with its kinetic energy regeneration unit (MGU-K) and had to give up, unfortunately. This makes the virtual safety car appear and Mercedes takes advantage of it and takes the lead when leaving the pit.
Shortly afterwards the Security Vehicle (SC) was also put on the track with the accident of George Russell (Williams) and Ferrari probably made a tactical mistake when Leclerc put on tire changes again to attack Mercedes but fell. Get behind both opponents' cars. Efforts in the last 20 rounds were not enough for him to improve his position and create miracles in Sochi.
Finally, the "Silver Arrow" continued to protect its territory with a fourth victory for Hamilton, while Bottas came second, bringing a 1-2 victory which was considered a surprise after what Ferrari showed in the 7th day.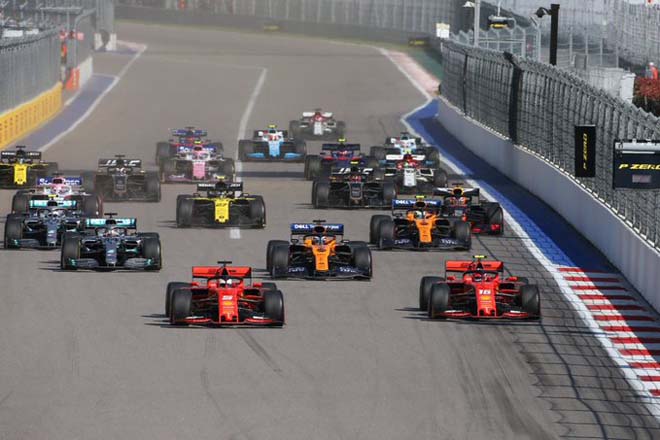 The third podium position was considered a consolation gift for Leclerc and the team after a difficult and chaotic race. Red Bull returned after the unsuccessful rating run and finished in the top 5 for both Max Verstappen and Alex Albon.
McLaren has both cars finished in the top 10 and continues to consolidate its lead in the middle group while main rival Renault only has Nico Hulkenberg to score. Sergio Perez continued his high performance for Racing Point in phase 2 of the season with the third stage scoring, while the last driver to score was Kevin Magnussen, despite being penalized for 5 seconds for running out of the track and taking advantage. but ended the 2-month drought for Haas.